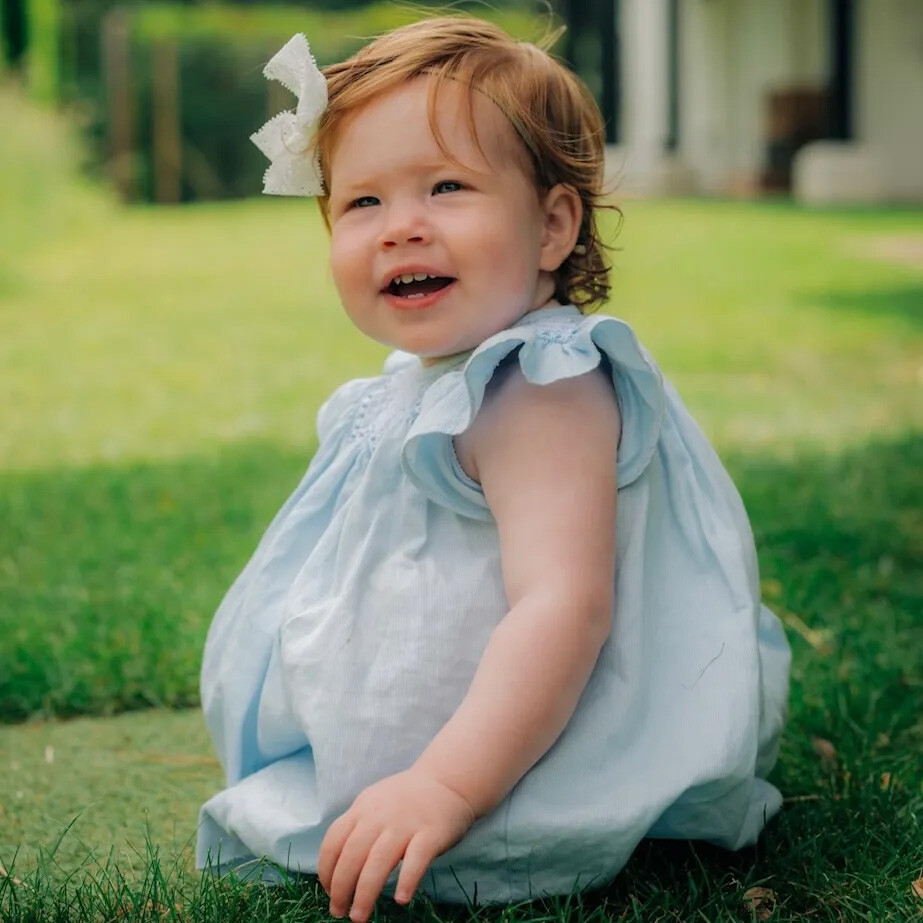 Title: Princess

Full Name: Lilibet Diana Mountbatten-Windsor

Father: Prince Henry of Wales, Duke of Sussex

Mother: Meghan Markle

House: Windsor

Born: June 4, 2021
Lilibet Diana Mountbatten-Windsor, or "Lili" for short, was born on Friday, June 4, 2021, at 11:40 AM at the Santa Barbara Cottage Hospital in Santa Barbara, California. Prince Harry's second child weighed 7 lb, 11 oz at birth.
Her name is special in that it honors both the Queen and Princess Diana. Prince Phillip (Harry's grandfather) calls the Queen Lilibet, it was always his special nickname for her majesty. And, of course, Diana (the child's middle name) is in honor of Prince Harry's mother.
At birth, she was 8th in line to the throne and, most notably, the highest in line to be born in the United States.
After spending two days with their new bundle of joy, the royal pair shared the news of Meghan's delivery in a statement they provided to their Archewell charity on Sunday, June 6.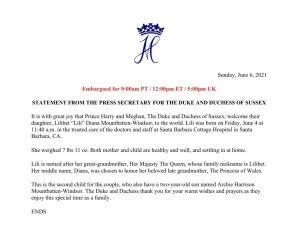 "On June 4, we were blessed with the arrival of our daughter, Lili. She is more than we could have ever imagined, and we remain grateful for the love and prayers we've felt from across the globe," the message from the Duke and Duchess of Sussex reads. "Thank you for your continued kindness and support during this very special time for our family."
Buckingham Palace has also shared a statement:
"The Queen, The Prince of Wales and The Duchess of Cornwall, and The Duke and Duchess of Cambridge have been informed and are delighted with the news of the birth of a daughter for The Duke and Duchess of Sussex."
Even though Lilibet did not receive a royal title when she was born, she is technically now a princess based on the current rules, issued by King George V in 1917. Those rules state that the title of prince or princess automatically goes to the sons and daughters of the sovereign, grandchildren born to the sovereign's sons, and the eldest son of the Prince of Wales's eldest son. And yes, that also means her brother Archie is also now considered a prince.
That is, assuming her parents allow her to accept and use her official title.