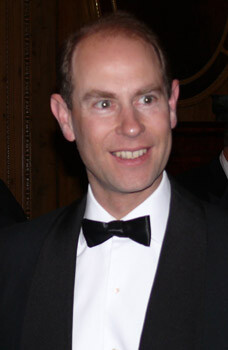 Full Name: Edward Antony Richard Louis

Father: Prince Philip, Duke of Edinburgh

Mother:  Queen Elizabeth II of England

House: Windsor

Born:  March 10, 1964

Married: Sarah Ferguson on July 23, 1986
His Royal Highness Prince Edward, Duke of Edinburgh, is the youngest child of Queen Elizabeth and Prince Philip, Duke of Edinburgh. Prince Edward Antony Richard Louis was born on March 10, 1964.
Titles and Styles:
His Royal Highness The Prince Edward (March 10, 1964 – June 19, 1999)
His Royal Highness, The Earl of Wessex (June 19, 1999, to Present)

His Royal Highness, Viscount Severn (in Wales June 19, 1999, to present)
His Royal Highness, The Earl of Forfar (In Scotland from March 10, 2019, to present)

His Royal Highness, Prince Edward, Earl of Wessex and Forfar (March 10, 2019, to March 10, 2023)
His Royal Highness, Prince Edward, Duke of Edinburgh (March 10, 2023, to Present)
On his 59th birthday, Prince Edward was granted the title of Duke of Edinburgh, a title that previously belonged to his later father, Prince Philip.
Buckingham Palace said in a statement that Charles was "pleased to confer the Dukedom of Edinburgh upon the Prince Edward", adding that the title will be held for Edward's lifetime.

"The dukedom was last created for Prince Philip in 1947, upon his marriage to Princess Elizabeth, who held the title of Duchess of Edinburgh before acceding to the throne in 1952," the statement continued.

"The new Duke and Duchess of Edinburgh are proud to continue Prince Philip's legacy of promoting opportunities for young people of all backgrounds to reach their full potential."
On his 55th birthday, the Earl of Wessex was granted the additional title of Earl of Forfar for use in Scotland. He has since been referred to as the Earl of Wessex and Forfar, such as at his father's funeral.
Prince Edward married Sophie Rhys-Jones on June 19, 1999. On his wedding day, he was created Earl of Wessex with the subsidiary title of Viscount Severn, derived from the Welsh roots of the Countess's family.
Prince Edward is the only son of the Queen who was not given the title of Duke when he married. Instead, she was made the Earl of Wessex. The question is, why? Normally, all the ruling monarch's children are given a Dukedom upon marriage.
The rumor is that he requested to be named the Earl of Wessex because of its association with one of his favorite films, Shakespeare In Love. The movie featured a character with the title of Earl Of Wessex, which came out the year before he got married – he was married in 1999, and the movie came out in 1998.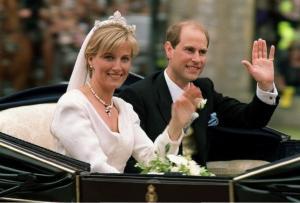 Is this rumor true? Who knows but far more likely is that he was made Earl of Wessex because when his father, Prince Philip, the Duke of Edinburgh, dies, he will continue the present Duke's work. This was according to official sources within the palace.
However, all of that assumes Prince Philip dies before Queen Elizabeth because if the Queen dies first, then by default, Prince Charles will inherit the title of Duke of Edinburgh, and if he's King at the time, the title will merge with the crown.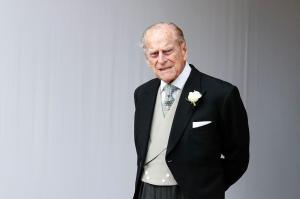 Since Prince Philip dies first, then the Queen can simply re-issue the title as she sees fit. However, she didn't. If Prince Charles is King, he doesn't have to follow his mother's wishes and issue the title to Edward. The Crown is at liberty to do as he or she wishes with the title, but as it stands, the Queen has expressed her desire for the title to go to Prince Edward.
The title was inherited by Prince Philip's eldest son, now Charles III, and merged into the crown upon Charles's succession in September 2022. It is Charles III's decision as to its subsequent destination. Since becoming King, Charles has yet to address whether he will pass the title on to his brother.
If that does happen, then Prince Edward will become the new Duke of Edinburgh, and his wife would become Her Royal Highness, The Duchess of Edinburgh, while his son James would become the Earl of Wessex instead of being known as James, Viscount Severn. Since daughters don't get a courtesy title as sons do, she will continue to be known simply as Lady Louise.
In July 2021, The Times reported that Charles had decided not to give the title to his brother upon accession, though Clarence House stated that "all stories of this nature are speculation, no final decisions have been taken" and declined to comment further. When the elder brother became Charles III, upon the death of their mother, Elizabeth II, the title Duke of Edinburgh merged with the Crown and ceased to exist.