The Queen of England owns a large collection of jewelry, some of which are hers as the monarch and others as a private individual. Queen Elizabeth's jewelry collection is separate from what is most famously known as the Crown Jewels, a collection of unique and historical items used by the Queen for important ceremonies and events. The crown jewels are housed in the Tower of London.  But all of those tiaras are a part of her private collection which in itself includes hundreds of items, including brooches, necklaces, bracelets, earrings, rings, watches, pendants, and dazzling tiaras of all sizes.
Heavy is the head that wears the crown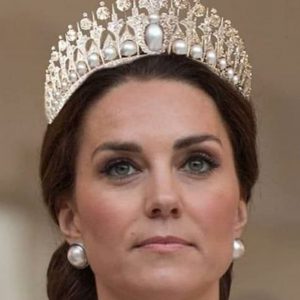 Delhi Dunbar Tiara
In October of 2005, the Duchess of Cornwall attended her first royal banquet and did so wearing the Delhi Durbar Tiara which was on loan from the Queen. It was last worn in 1947 by the Queen Mother for an official visit to South Africa.
The circle of brilliant-cut diamonds mounted in gold and set in platinum was made by Garrards in 1911, and Queen Mary wore it in Delhi to mark the start of King George V's reign as King and Emperor of India.
The tiara previously included five of the Cambridge cabochon emeralds and also was occasionally worn with two diamonds from the Cullinan stone. But the emeralds were removed by Queen Mary and made into another tiara now owned by the Queen – the diamonds were kept separately as a brooch, and it's the single most expensive piece of jewelry she owns.
Queen Mary gave the tiara to her daughter-in-law, Queen Elizabeth, as a permanent loan in 1946; the Queen Mum wore it on the family's tour of South Africa the following year. She kept the tiara until her death, when it was inherited by the current queen. Elizabeth II has never worn this particular tiara in public.





Queen Mary's Fringe Tiara
Queen Mary's Fringe Tiara is a piece that was created on the commission of the Queen's grandmother and was worn by Queen Elizabeth II at her wedding. Queen Mary's fringe tiara is thought to have been made from diamonds that were a part of a necklace known as Queen Adelaide's necklace. This necklace was made by Collingwood, that Queen Victoria gave to Mary as a wedding gift in 1893. Queen Mary dismantled the necklace and reused the diamonds to make Queen Mary's Fringe Tiara.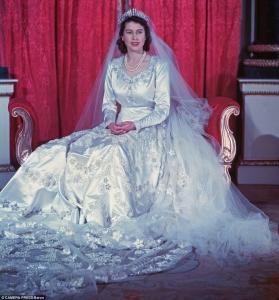 As a young bride in 1947, Princess Elizabeth paired Queen Mary's Fringe tiara with her flowing Norman Hartnell gown, made from ivory Duchesse satin and embroidered with 10,000 pearls. But it was very nearly a source of embarrassment. Just before she left for Westminster Abbey, the tiara snapped, and the court jeweler had to rush in for emergency repairs.
The tiara, made by Garrard in 1919 from a necklace given to Mary as a wedding present, was given to the Queen Mother in 1936 and later loaned to Princess Elizabeth and Princess Anne for their wedding days.
Some people say that the Queen Mary's Fringe Tiara can also be worn as a necklace, but they are confused. As you can see by the picture above of Queen Elizabeth is wearing both the tiara and a matching necklace. They are not interchangeable. It's not physically possible to wear a tiara as a necklace.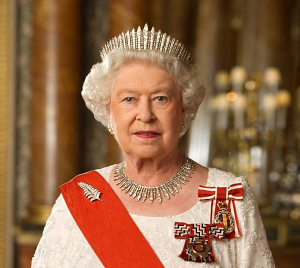 George III Fringe Tiara
The George III Fringe Tiara is often confused with Queen Mary's Fringe Tiara by bloggers and journalists for some reason. Although they are made from the same basic concept they really don't look anything alike. I really couldn't find a modern-day image of the George III Fringe Tiara, so here is a close-up crop so you can see just how different they really are.

The Brazilian Aquamarine Parure Tiara
For her coronation in 1953, the Queen received a gift of a necklace and earrings from the President and people of Brazil. The set includes large rectangular Brazilian aquamarines, set in scrolled diamond and platinum, surrounded by Mappin & Webb in Rio de Janeiro.
The necklace features a large detachable pendant. The stones took a year to collect. Brazil continued to collect more stones for the Queen following the first gift, and in 1958 presented her with a large brooch and a bracelet to add to the set.
In 1957, the Queen had Garrard make a simple tiara of a platinum bandeau set with diamonds and aquamarines and three large upright aquamarines with diamond surrounds. The uprights were detachable and could be used as brooches.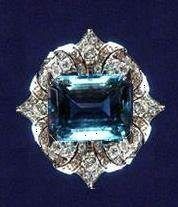 In 1971, she added four aquamarine and diamond scroll ornaments around the upright pieces; these came from a jewel she was given by the Governor of São Paulo during a state visit to Brazil in 1968. The Queen also replaced the central aquamarine upright on the tiara with the large aquamarine pendant that had originally hung from the necklace. The necklace pendant was replaced with a smaller stone.
The Queen clearly loves this set and wears it quite often. Here is a list of times I could find.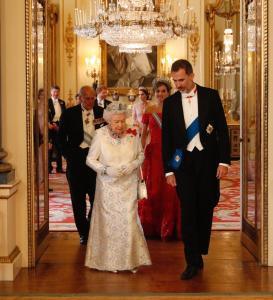 1957: Earrings and necklace only
November 1967: Visit to Malta
March 1969: Covent Garden
1982: Royal Maundy Service (Brooch only)
1983: State Visit to India
2009: State Visit from Mexico
October 2011: Visit to Australia
19 June 2012: Royal Ascot, Day One (Brooch only)
4 June 2013: Coronation Anniversary Service (Brooch only)
12 July 2017: State Visit from Spain, State Banquet
The Queen Mother's Double Meander Tiara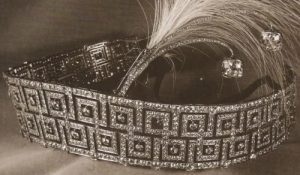 This is one of those tiaras that you almost never see. It was only known to be part of Queen Elizabeth's collection when it was shown at exhibitions. Little is known about it. What we can say is that it was at one time owned by the Queen mother and Princess Anne ** might ** have worn it to a state banquet in 2005.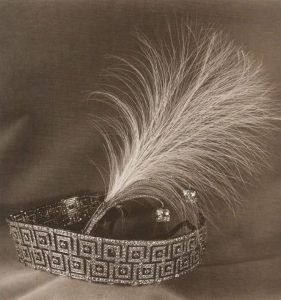 This should not be confused with the Meander tiara once owned by Prince Philip's mother and loaned to Zara Phillips on her wedding day. That tiara originally belonged to Anne's grandmother, Princess Alice of Battenberg, later known as Princess Andrew of Greece and Denmark. That is also known as Princess Andrew of Greece's Meander Tiara.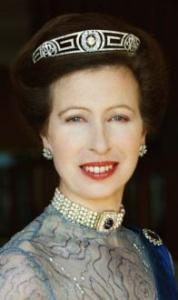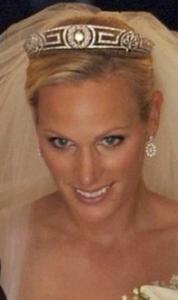 However, it is not the same as the Queen Mother's Double Meander Tiara.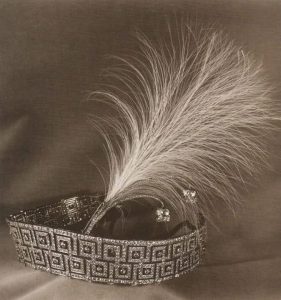 It is a diamond art deco tiara. Shown here on a tiara frame, from a British Pathé news broadcast in the 1950s. It's believed to have been originally given to Queen Elizabeth, Consort of George VI, as a bandeau. Designed as a double meander tiara with large Greek Key motifs.
One source has called this Queen Mary's Greek Key Aigrette Tiara. (ca. 1850-1900; diamonds, gold, silver, osprey feathers).
There is a similar one called the Romanian Greek Key Tiara, which might have been where we get the name Queen Mary's Greek Key, Aigrette Tiara.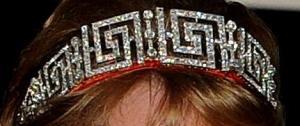 So is it the Queen Mother's Double Meander Tiara, or is it called the Queen Mary's Greek Key Aigrette Tiara?
That I honestly don't know. All I can say for sure is that nobody has seen the thing in a long, long time. The only confirmed sighting we have for it is the television show in the 1950s.
Queen Mary would be Queen Elizabeth II's grandmother. Her son George was Queen Elizabeth's father. So if the tiara did belong to Queen Mary, it would have no doubt passed to her son and his wife when he became king as with the tradition of all royal jewels. George's wife – Elizabeth, was known as the Queen Mother when George died, and Elizabeth II became Queen.
The Queen Mother would have passed all of her jewels to her daughter, Queen Elizabeth, upon her death and in part when Queen Elizabeth took the crown.
Queen Elizabeth became queen in 1952 when her father died. So that coincides with the date of the television show – British Pathé news broadcast that gave the world the first glimpse of the tiara.
The question is, where is it now? If it's part of the Queen's personal collection, we may never see it unless she lends it to a younger royal to wear.
This led me to the official website of the British Crown Jewel's collection, which displays 101 objects in all, none of which included any tiaras – a few crowns but sadly no tiaras.