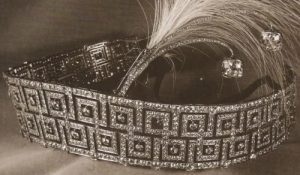 This is one of those tiaras that you almost never see. It was only known to be part of Queen Elizabeth's collection when it was shown at exhibitions. Little is known about it. What we can say is that it was at one time owned by the Queen mother and Princess Anne ** might ** have worn it to a state banquet in 2005.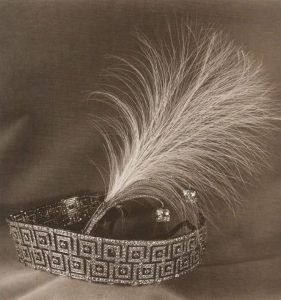 This should not be confused with the Meander tiara once owned by Prince Philip's mother and loaned to Zara Phillips on her wedding day. That tiara originally belonged to Anne's grandmother, Princess Alice of Battenberg, later known as Princess Andrew of Greece and Denmark. That is also known as Princess Andrew of Greece's Meander Tiara.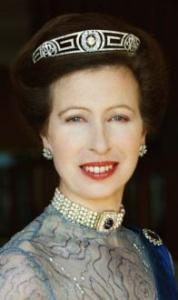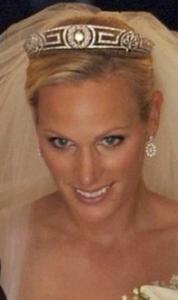 However, it is not the same as the Queen Mother's Double Meander Tiara.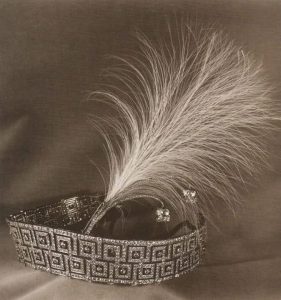 It is a diamond art deco tiara. Shown here on a tiara frame, from a British Pathé news broadcast in the 1950s. It's believed to have been originally given to Queen Elizabeth, Consort of George VI as a bandeau. Designed as a double meander tiara, with large Greek Key motifs.
One source has called this Queen Mary's Greek Key Aigrette Tiara. (ca. 1850-1900; diamonds, gold, silver, osprey feathers).
There is a similar one called the Romanian Greek Key Tiara, which might have been where we get the name Queen Mary's Greek Key, Aigrette Tiara.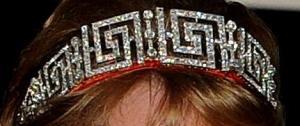 So is it the Queen Mother's Double Meander Tiara or is it called the Queen Mary's Greek Key Aigrette Tiara?
That I honestly don't know. All I can say for sure is that nobody has seen the thing in a long, long time. The only confirmed sighting we have for it is the television show in the 1950s.
Queen Mary would be Queen Elizabeth II's grandmother. Her son George was Queen Elizabeth's father. So if the tiara did belong to Queen Mary it would have no doubt passed to her son and his wife when he became king as with the tradition of all royal jewels. George's wife – Elizabeth was known as the Queen Mother when George died and Elizabeth II became Queen.
The Queen Mother would have passed all of her jewels to her daughter, Queen Elizabeth upon her death and in part when Queen Elizabeth took the crown.
Queen Elizabeth became queen in 1952 when her father died. So that coincides with the date of the television show – British Pathé news broadcast that gave the world the first glimpse of the tiara.
The question is, where is it now? If it's part of the Queen's personal collection we may never see it unless she lends it to a younger royal to wear.
This led me to the official website of the British Crown Jewel's collection which displays 101 objects in all, none of which included any tiaras – a few crowns but sadly no tiaras.