Lady Louise Mountbatten-Windsor is the eldest child and only daughter of Prince Edward, Earl of Wessex, and Sophie, Countess of Wessex.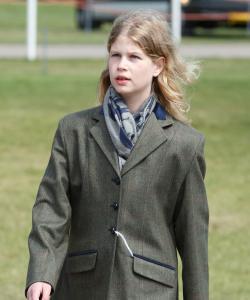 Louise Alice Elizabeth Mary Mountbatten-Windsor was born on November 8, 2003.
Lady Louise Windsor
Lady Louise Mountbatten-Windsor
She is known as "Lady Louise Windsor" instead of Her Royal Highness, Princess Louise of Wessex, although letters patent issued in 1917, and still remaining in force today assign a princely status and the style of Royal Highness to all male-line grandchildren of a monarch. Her father is Prince Edward, Earl of Wessex, the son of a ruling monarch.
However, when her parents married, the Queen announced that their future children would be styled as the children of an earl, rather than as princes or princesses and that is why she is Lady Louise Windsor instead of being Her Royal Highness, Princess Louise of Wessex.
Lady Louise was baptized in a private chapel of Windsor Castle on April 24, 2004. Her godparents were: Lady Alexandra Etherington, her third cousin once removed (from Edward VII), Lady Sarah Chatto, her first cousin once removed (from George VI), Lord Ivar Mountbatten, her second cousin once removed (from Prince Louis of Battenberg), Rupert Elliott, and Francesca Schwarzenbach.
In honor of a visit by her father, the Canadian province of Manitoba, the Lieutenant Governor of Manitoba-in-Council named a lake in the north of the province after Lady Louise in June of 2008.
On April 29, 2011, she was one of the bridesmaids at the wedding of the Duke and Duchess of Cambridge.
The young royal was born with esotropia, a condition that turns the eyes outwards. The illness saw her undergo her first surgery at just 18 months – unfortunately, it was not successful. Growing up, she faced issues with her vision, which lead to her parent's decision for her to have a second operation in 2014. It has been reported that it was a success and now Lady Louise has better vision.
"It's still not perfect – but none of us are," Sophie told The Times.
Speaking of her daughter's condition, Countess Sophie shared, "Premature babies can often have squints because the eyes are the last thing in the baby package to really be finalized."
"Her squint was quite profound when she was tiny and it takes time to correct it. You've got to make sure one eye doesn't become more dominant than the other but she's fine now," she added.
Her daughter's ailment inspired the Countess of Wessex to become a patron of the International Agency for the Prevention of Blindness and a global ambassador for Vision 2020.