Lady Louise Mountbatten-Windsor is the eldest child and only daughter of Prince Edward, Earl of Wessex and Sophie, Countess of Wessex.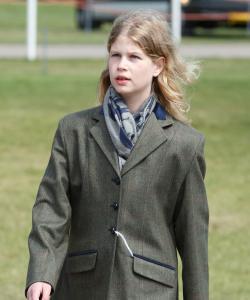 Louise Alice Elizabeth Mary Mountbatten-Windsor was born on November 8, 2003.
Lady Louise Windsor
Lady Louise Mountbatten-Windsor
She is known as "Lady Louise Windsor" instead of Her Royal Highness, Princess Louise of Wessex, although letters patent issued in 1917, and still remaining in force today assign a princely status and the style of Royal Highness to all male-line grandchildren of a monarch. Her father is Prince Edward, Earl of Wessex, the son of a ruling monarch.
However, when her parents married, the Queen announced that their future children would be styled as the children of an earl, rather than as princes or princesses and that is why she is Lady Louise Windsor instead of being Her Royal Highness, Princess Louise of Wessex.
Lady Louise was baptized in a private chapel of Windsor Castle on April 24, 2004. Her godparents were: Lady Alexandra Etherington, her third cousin once removed (from Edward VII), Lady Sarah Chatto, her first cousin once removed (from George VI), Lord Ivar Mountbatten, her second cousin once removed (from Prince Louis of Battenberg), Rupert Elliott, and Francesca Schwarzenbach.
In honor of a visit by her father, the Canadian province of Manitoba, the Lieutenant Governor of Manitoba-in-Council named a lake in the north of the province after Lady Louise in June of 2008.
On April 29, 2011, she was one of the bridesmaids at the wedding of the Duke and Duchess of Cambridge.