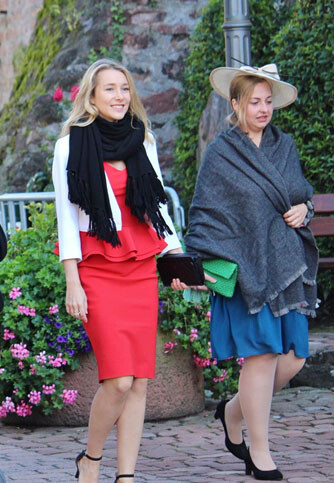 Her Serene Highness Princess Cécilia of Leiningen was born on June 10, 1988. She is the daughter of Prince Karl Emich of Leiningen and Princess Margarita of Hohenlohe-Oehringen. Her mother however died in 1989 in a car accident.
Her father, Prince Karl Emich of Leiningen (Karl Emich Nikolaus Friedrich Hermann Prinz zu Leiningen) is the head of the house of Romanov, and a claimant of the now-defunct throne of the Russian Empire.
Princess Cecilia of Leiningen is the half-sister of Princess Theresa of Leiningen. Her father married Princess Theresa's mother after her own mother had died. The two sisters have remained close and they even attended their uncle's wedding together in 2017.
Leiningen is a principality in Germany. The House of Leiningen is an old German noble family, with various branches throughout the centuries. Since 1991, the head of the princely line has been Andreas – 8th Prince of Leiningen (Princess Theresa's uncle) because her father was excluded from succession after he married morganatically (the marriage of her mother).