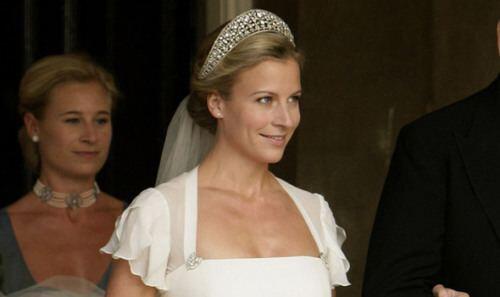 Full Name: Rose Victoria Birgitte Louise

Father:  Prince Richard, Duke of Gloucester

Mother: Birgitte van Deurs

House: Windsor

Born: March 1, 1980

Married: George Gilman on July 18, 2008
Rose Victoria Birgitte Louise Windsor was born on March 1, 1980, at St. Mary's Hospital in London, England. Lady Rose Windsor is the youngest daughter of the Duke and Duchess of Gloucester.
On July 18, 2008, she married George Gilman, making her Lady Rose Gilman instead of Lady Rose Windsor. They were married at the Queen's Chapel at St. Jame's Palace. George Gilman is the son of Peter Gilmore, former director of the Leeds United soccer club and property developer.
Lady Rose Gilman has two children with her husband, Lyla Beatrix Christabel Gilman, born on May 30, 2010, and Rufus Frederick Montagu Gilman, born on October 30, 2012.
At her wedding, she wore the Iveagh Tiara. This tiara, a tightly packed design of diamond scrolls and foliage in a kokoshnik shape, was given as a wedding gift to Queen Mary by Lord & Lady Iveagh. She bequeathed it to her daughter-in-law, Princess Alice, Duchess of Gloucester, in 1953, who passed it on to the current Duchess.  A tiara formed of diamond and platinum wide bandeau with clusters of large diamonds and alternative centers forming emerald and diamond brooches.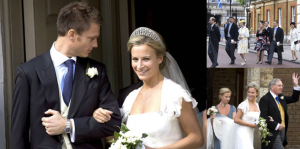 She was baptized on July 13, 1980, at Barnwell Church, Northamptonshire, her godparents included Prince Edward and Lady Sarah Armstrong-Jones.
Her father (Prince Richard, Duke of Gloucester) is the Queen's first cousin. Growing up, she lived in an apartment in Kensington Palace. She has two siblings, Lady Davina and Alexander Windsor, Earl of Ulster.
Her father, the Queen's first cousin, is, in fact, a prince. His name was formerly His Royal Highness Prince Richard of Gloucester, but he now goes by His Royal Highness The Duke of Gloucester. So the question is if her father is a prince, why is Lady Rose not a princess?
It's a long and complicated answer, but the short version is that only those in the direct line of succession will have children that are princes or princesses. That is why Prince William's children are princes and princesses, and prince Harry's children are not.
So prince Richard (like Prince Harry) was given a dukedom, and his heirs will inherit the titles related to the dukedom instead of those relating to a prince. As Lady Rose is his third child and a female, she won't inherit the dukedom, the eldest son will, which in this case is her brother, Alexander Windsor, Earl of Ulster.