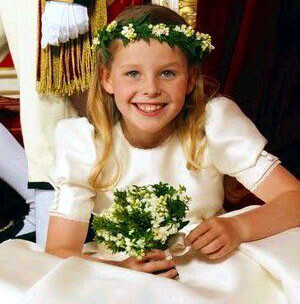 Margarita Elizabeth Rose Alleyne Armstrong-Jones was born on May 14, 2002.
She is the only daughter and youngest child of David Armstrong-Jones, Viscount Linley, and his wife, the Honorable Serena Stanhope. She's a second cousin to Prince William.
Margarita was named after her paternal grandmother, Princess Margaret, Countess of Snowdon and her great-grandmother Queen Elizabeth, The Queen Mother, both of whom died just before her birth.
Rose was selected by her brother Charlies. Alleyne was also one of her mother's middle names.
14 May 2002 – present: The Honourable Margarita Armstrong-Jones
When her father becomes the Earl of Snowdon, she will be known as Lady Margarita Armstrong-Jones.
On April 29, 2011, she was one of the bridesmaids at the wedding of the Duke and Duchess of Cambridge.