His Royal Highness Prince William, The Duke of Cambridge, is the eldest son of HRH The Prince Charles and Diana, Princess of Wales.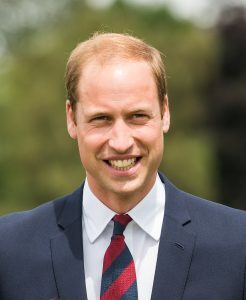 William Arthur Philip Louis was born on June 21, 1982.
Prince William of Wales
The Duke of Cambridge
The Earl of Strathearn
Baron of Carrickfergus
Prince William married Catherine Middleton on  April 29, 2011 at Westminster Abbey. His grandmother Queen Elizabeth II, made him the Duke of Cambridge, Earl of Strathearn, and the Baron of Carrickfergus.
Cambridge is a town in England.
Strathearn of Streath Earn is in Scotland.
Carrickfergus is a large town in Northern Ireland.
Prince William was baptized in the Music Room of Buckingham Palace on August 4, 1982, by the Archbishop of Canterbury, Robert Runcie. This day also happened to be the 82nd birthday of his paternal great-grandmother, Queen Elizabeth The Queen Mother. William has six godparents …
Former King Constantine II of Greece
Princess Alexandra
The Honourable Mrs. Ogilvy, the Duchess of Westminster
Lady Susan Hussey
Lord Romsey
Sir Laurens van der Post
When Prince William asked Kate Middleton to marry him, he gave her his mother's engagement ring. When his father had originally bought it for his mother it was worth £28,000 ($47,000) but is now estimated to be worth £300,000 ($500,000). The ring is a 12-carat sapphire surrounded by 14 diamonds.