The Greek monarchy was abolished on June 1, 1973.  Since then the royal family's titles are merely a courtesy. Which means, the titles and styles are no longer legally recognized by the government.  In April 1967, the elected Government of Greece was overthrown by a group of middle-ranking army officers led by Colonel Georgios Papadopoulos, and a military dictatorship was established.
The last official monarch was Constantine II of Greece. He acceded as king following the death of his father King Paul in March 1964. Later that year he married Princess Anne-Marie of Denmark with whom he eventually had five children.
Princess Alexia
Pavlos, Crown Prince of Greece
Prince Nikolaos
Princess Theodora
Prince Philippos
Princess Alexia converted from Greek Orthodoxy to Roman Catholicism after marrying Carlos Morales Quintana, therefore giving up her and her children's succession rights.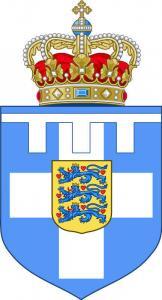 Pavlos is the Crown Prince of Greece, and was born on May 20, 1967.
He is the eldest son and second child of Constantine and his wife, Anne-Marie of Denmark. He was the heir apparent to the throne of Greece and was its crown prince from birth, remaining so during his father's reign until the monarchy's abolition.
Pavlos was born into a turbulent era of Greek politics, and when King Constantine ascended to the throne upon his father's death, he was aged just 23.
As a male-line descendant of Christian IX of Denmark, he is also a Danish prince. His mother is the youngest sister of Queen Margrethe II of Denmark and his father is a brother of Queen Sophia of Spain. His maternal grandparents were King Frederick IX of Denmark and his wife, Princess Ingrid of Sweden.
The reason he is the heir to the throne instead of his elder sister Alexia is that Greece's order of succession adheres to male-preference primogeniture.
Male-preference primogeniture accords succession to the throne to a female member of a dynasty if and only if she has no living brothers and no deceased brothers who left surviving legitimate descendants.
Pavos married British-born heiress Marie-Chantal Miller.
The couple have five children: Maria-Olympia (b. 1996), Constantine-Alexios (b. 1998), Achileas-Andreas (b. 2000), Odysseas-Kimon (b. 2004), and Aristidis-Stavros (b. 2008).
This makes Constantine-Alexios next in line for the throne, behind his father.
The Greek Royal Line of Succession
Pavlos, Crown Prince of Greece
Prince Constantine Alexios
Prince  Achileas Andreas
Prince  Odysseas Kimon
Prince  Aristidis Stavros
Princess Maria Olympia
Prince Nikolaos
Prince Philippos
Princess Theodora
Princess Irene (younger sister of King Constantine II)
King Paul of Greece had three children,
Sofía, Queen of Spain
Constantine II of Greece
Princess Irene
Princess Sophia, elder sister of Constantine II, relinquished her rights to the throne of Greece in 1962 when she married the then Juan Carlos, Prince of Asturias, so neither she nor her descendants appear in the line of succession.