HRH Prince Henry of Wales (aka Prince Harry) is the youngest son of Prince Charles and Princess Diana. His official and full title is His Royal Highness The Duke of Sussex, Earl of Dumbarton, and Baron Kilkeel.
Henry Charles Albert David was born on September 15, 1984.
Prince Henry of Wales
Henry Mountbatten-Windsor
Duke of Sussex
Earl of Dumbarton
Baron Kilkeel
His Royal Highness The Duke of Sussex
Prince Harry as he is most often called is the youngest son of Prince Charles and Princess Diana. At the time of his birth, he was known as "the spare" in reference to his older brother being the heir to the throne. Together they were called the heir and the spare.
He was the world's most eligible bachelor and has been linked to some of the most beautiful women in the world (far too many to name) until he married on May 19, 2018.
He was baptized on 21 December 21, 1984, at S. George's Chapel, Windsor Castle, by the Archbishop of Canterbury, Robert Runcie.
His godparents are …
Prince Andrew
Lady Sarah Armstrong-Jones
Carolyn Bartholomew (née Pride)
Bryan Organ
Gerald Ward
Celia, Lady Vestey (née Knight)
Like his mother, Prince Harry does a large amount of charity work including working to raise awareness of HIV testing. On July 14, 2016, using the royal family's official Facebook page, he used the Facebook Live feature to do an HIV test.
On December 1, 2016, Prince Harry and Rihanna got tested for HIV in Barbados, to raise awareness on World Aids Day. Prince Harry and Rihanna, who hugged each other and posed for pictures with their HIV counselors, gave television interviews after their results came back negative.
The prince said that he believed there had been a "generational gap" around discussing HIV. "The younger generation coming through want to talk about it. But there's still that stigma", he said. "So if us getting tested normalizes it and makes a difference, even a small difference, then job well done".
On Saturday, May 19, 2018, Prince Harry married Megan Markle and the couple officially became the Duke and Duchess of Sussex.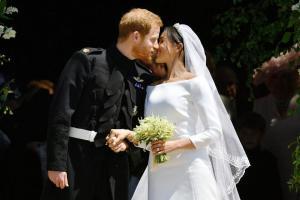 Early in 2020 Prince Harry and his wife Meghan officially stepped down as "working royals". According to a statement issued by Harry and Meghan's communications secretary on their official website, they will retain their titles His Royal Highness and Her Royal Highness, the Duke and Duchess of Sussex, but they will not actively use them "as they will no longer be working members of the family as of Spring. Prince Harry is still a prince by birthright and is still in the line of succession to the throne,