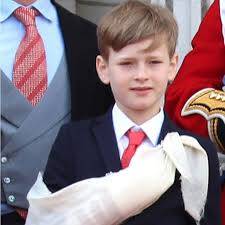 Albert Louis Philip Edward Windsor was born on September 22, 2007, at the Chelsea and Westminster Hospital, London. He is the son of Lord and Lady Nicholas Windsor. Albert is also the grandson of His Royal Highness, Prince Edward, Duke of Kent.
The House of Windsor as we know it today began in 1917 when the family changed its name from the German "Saxe-Coburg-Gotha." Queen Elizabeth's grandfather, King George V, was the first Windsor monarch. Today's working royals are the descendants of King George and his wife, Queen Mary.
Little Albert Louis is the first Windsor to carry the name Albert since King George VI (Queen Elizabeth's father), who was known publically as Prince Albert until his accession.
Baby Albert is also notable for being the first royal baby to be baptized a Catholic since 1688. He was baptized on February 20, 2007, in a Catholic ceremony held in the Queen's Chapel adjoining St James's Palace in London.
At the time of his birth, little Louis Windsor was 35th in line to the British throne. However, he was baptized catholic, thereby losing his position in succession, like his father and brother before him. However, he will remain in line to the Dukedom of Kent, which is currently held by his paternal grandfather.
Like the rest of his family, Louis has no royal title and will not be expected to perform any royal duties. But, as a close blood relative of the Monarch, he will undoubtedly be invited to important family events.