Lena Tindall, the 2nd daughter of Zara Tindall and Mike Tindall. Her name is pronounced Lay-na.
The baby, the Queen, and Prince Philip's seventh great-grandchild was born at Stroud Maternity Unit in Gloucestershire, weighing 9lb 3oz. The new baby is believed to be the heaviest royal baby in recent years, taking over the record from Zara's niece Savannah Phillips, who was 8lb 8oz when born in 2010.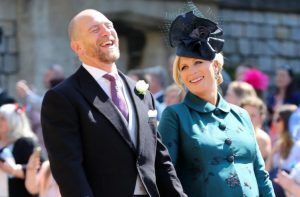 Like her mother and her older sister Mia, she will be known as "Miss" instead of HRH like her royal cousins. When Zara – daughter of the Princess Royal – was born in 1981, she had no right to a title, being born down the female line as the offspring of a daughter of a sovereign. The same applies to any of her children.
Lena Elizabeth Tindall was born on June 18, 2018.