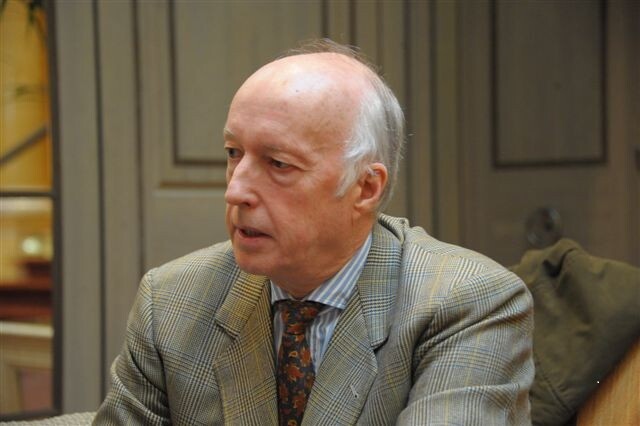 His Serene Highness Karl-Emich, 8th Fürst of Leiningen or Prince Karl Emich of Leiningen. He is also known under the Christian Orthodox name as Nikolai Kirillovich Romanov or Prince Nikolai Kirillovich of Leiningen.
Karl Emich Nikolaus Friedrich Hermann Prinz zu Leiningen was born on June 12, 1952.
The royals take the idea of marriage seriously. As the eldest son of Emich, 7th Prince of Leiningen, and Duchess Eilika of Oldenburg, they expected him to marry someone they approve of.
On June 8, 1984, he married Princess Margarita of Hohenlohe-Oehringen. Together they had one daughter, Princess Cécilia of Leiningen (b. 1988). But just a year after her daughter was born she died in a car accident.
On May 24, 1991, Prince Karl Emich married Gabriele Renate Homey Thyssen, a former model, without the permission of his family. She was a Catholic and that meant he was taken out of the line of succession for the British throne.
Together they had one child, Princess Theresa of Leiningen (born April 26, 1992). This marriage would be dissolved in early 1998.
The Prince feels the stress of the family feud is what caused his marriage to fall apart. Even after they had a child, his mother still refused to speak with him. Apparently, she hadn't spoken to Prince Emich since the wedding.
They even disinherited him and as a result, he had to give up the use of the Leiningen Fürstliche title because of his parents' disapproval of his second, morganatic marriage to a commoner. His younger brother Andreas became the Prince of Leiningen.
He's been involved in several lawsuits to allow him to inherit more than $100 million worth of castles, property, and even a Mediterranean island that he was denied as a result of his 2nd marriage.
As a result, the marriage was deemed a violation of the 1897 Leiningen family edict requiring that all dynastically valid marriages, be authorized by the current head of the Leiningen family. Historically they have only granted permission for brides who were descended from royalty or titled nobility. Thyssen was neither.
In 2007 Prince Karl Emich married Countess Isabelle von und zu Egloffstein in a civil ceremony on September 8, 2007, in Amorbach, and in a religious ceremony on June 7, 2008, in Pappenheim.
In 2010 they had a son, Prince Emich of Leiningen.
Now here is where the story gets interesting.
The Russian monarchy was abolished in 1917 when the Russians forced Emperor Nicholas II to abdicate.
However, if that didn't happen, who would wear the crown? Some say it would be Prince Karl Emich.
Prince Karl Emich is the grandson of Grand Duchess Maria Cyrillovna of Russia, which is the sister of Vladimir, and aunt of Maria Vladimirovna, and great-grandson of Cyril Vladimirovich, Grand Duke of Russia.
The Monarchist Party of Russia supports Prince Nikolai (aka Prince Karl Emich) as the heir of the Russian throne.
In early 2014, Nikolai Kirilovich declared himself Emperor Nicholas III (successor to Nicholas II). The micronation known as the Imperial Throne (or Imperial See) was created for the purpose.
As a member of the House of Leiningen, Prince Nikolai would be the first non-Romanov monarch since 1613 if he were to become the monarch of Russia.